An overview of diseases, diagnosis and treatment options for gynaecological malignancies
Gynecological oncology is a subspeciality within gynecology, where malignant tumors (cancers) in the female reproductive organs, incl. ovaries, fallopian tubes, peritoneum, uterus, cervix, vagina and vulva, are managed. The patients within the subspeciality are diagnosed, staged and treated in centralized cancer centres by teams of specialists including gynaecologists, surgeons, medical oncologist and radiotherapists.
Gynaecological malignancies affect patients both physically, mentally, sexually and socially in many cases. This warrants a multidisciplinary approach to treating and helping the patients optimally, including close collaboration with subspecialized nurses, physicists, radiographic personal, physiotherapists etc.
In many Hospitals clinical research is an integrated part of every day and a high priority among professionals. Researchers aim to initiate and run clinical trials to develop, test and improve future advances within gynecological oncology treatment.
Endometrial cancer originates mainly (over 90 %) from the internal surface of the uterus. It is the most frequent gynaecological cancer type, and often gives symptoms in lower stages (1 and 2). Followingly the cancer is often diagnosed early, where the prognosis is good and treatment can be curative.
Long term exposure of the endometrium to high estrogen levels (adipositas, PCOS, Tamoxifen (treatment for breastcancer)) increases the risk of  endometrial cancer.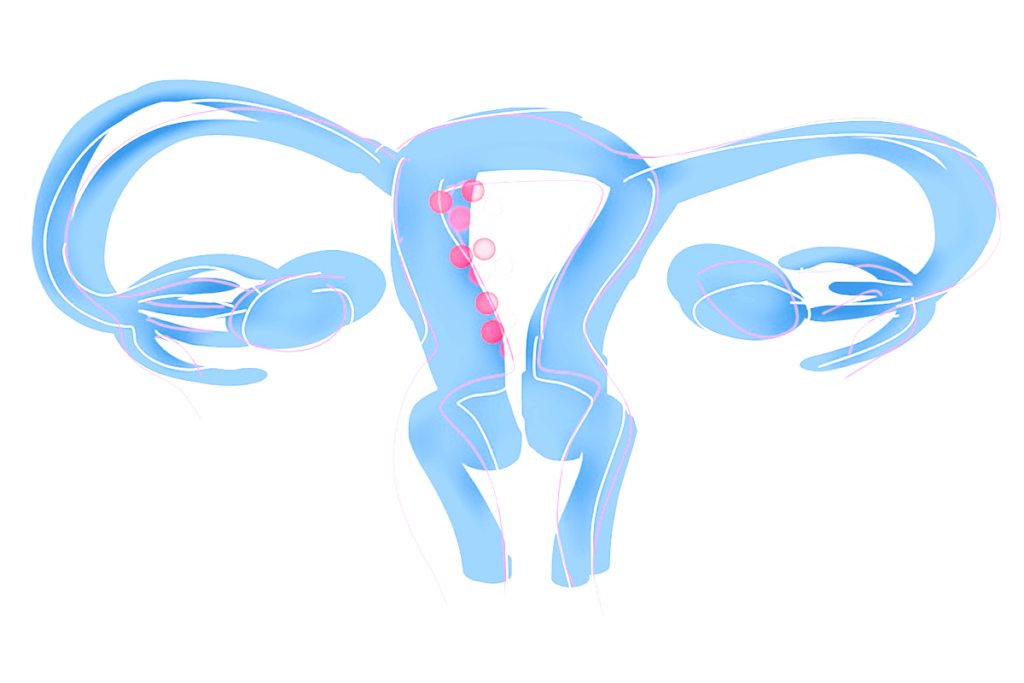 Ovarian cancer is the second most frequent gynecological cancer type, and includes cancer in the ovaries, fallopian tubes, and peritoneum. 
The disease has limited symptoms in lower stages (1 and 2), and therefore it is predominantly diagnosed in advanced stages 3 and 4), where it is associated with a poor prognosis.
The ethiology of the disease is multifactorial with approximately    10 % being hereditary (mainly BRCA  1/2 mutation). 
Malignant tumors of the uterine cervix may affect both young and older women. The majority of cervical cancers are associated with persistent high-risk HPV-infection (e.g. type 16 and 18).
Smear-screening for dysplasia (pre-cancerous lesions) and the introduction of the HPV-vaccination have decreased the occurrence of cervical cancer in developed countries.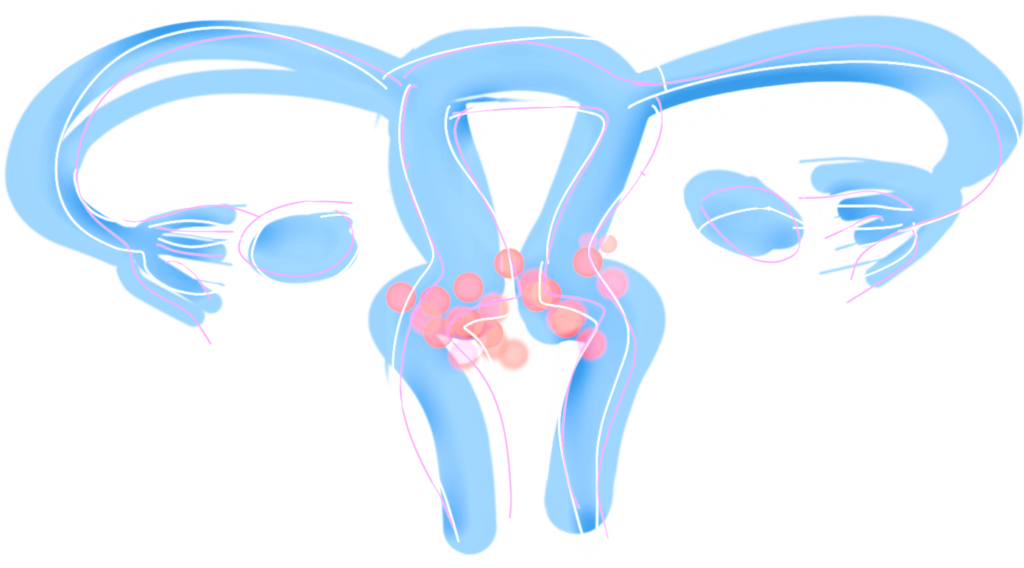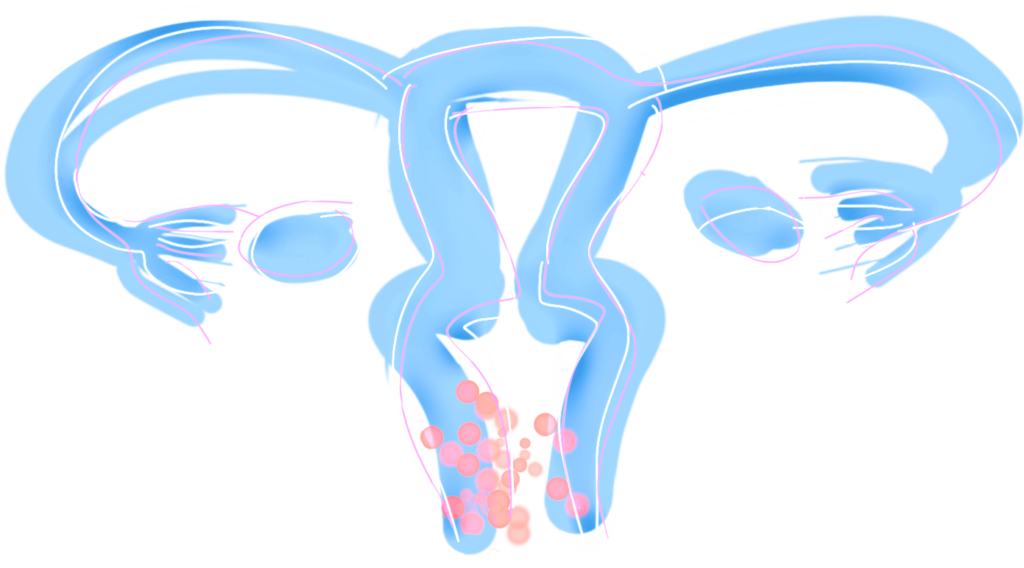 Primary malignant tumors originating in the vagina are rare. More often, malignant tumors discovered in the vagina have spread from other cancer types in the pelvis or elsewhere in the body.
As the location implies, the cancer and the treatment are often associated with symptoms of physical, mental and sexual nature.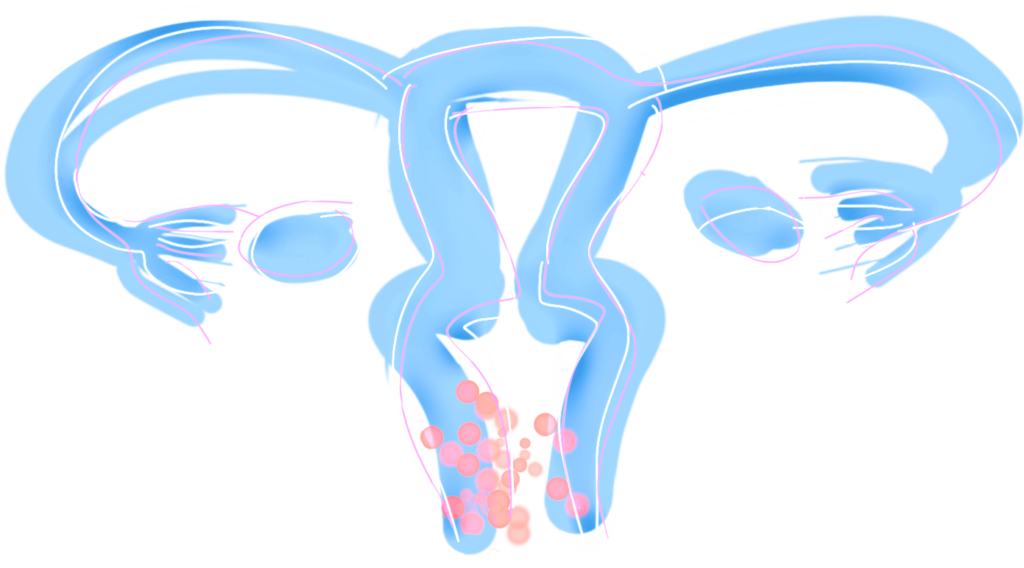 Malignant tumors of the vulva may be reated to the autoimmune disease Lichen Sclerosis and/or HPV-infection. Tumors may present in various ways; such as a red itching/scaling lesion, a wound without heeling, or a swelling/tumor in the outer female genital parts.
The cancer and the treatment are often associated with symptoms of physical, mental, and sexual nature. Patients often peristently have visible sequelae after the disease and treatment.