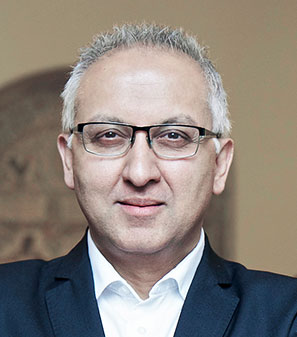 Study Chair &
Medical Direcor of NSGO-CTU
ENGOT, NSGO-CTU & GOG-Foundation proudly announce the ground-breaking results of ENGOT-EN6-NSGO/GOG-3031/RUBY trial.
The results reveal improvement in overall survival at 24 months in the whole study population from 56% (CP+placebo) to 71.3% (CP+dostarlimab). "although these are interim data, we believe they are robust and will be confirmed with longer follow-up.", said Mansoor R Mirza.
The trial is presented on 27th of March 2023 through ESMO's Virtual Plenary and at the Society of Gynecologic Oncology's (SGO) Annual Meeting on Women's Cancer. The trial's results are simultaneously published in the New England Journal of Medicine, demonstrate unprecedented improvement in Progression-Free Survival and Overall Survival of patients with primary advanced or recurrent endometrial cancer (EC) when treated with dostarlimab in combination with standard of care carboplatin/paclitaxel (CP) followed by dostarlimab monotherapy compared to chemotherapy alone.
"Carboplatin/paclitaxel is the standard of care for first-line treatment of primary advanced or recurrent endometrial cancer; however long-term outcomes remain poor, with median overall survival of less than 3 years. Anti–PD-1 based therapy has transformed the management of endometrial cancer post-platinum chemotherapy, however, advances in first-line systemic treatment were urgently needed", says study chair Mansoor Raza Mirza (NSGO-CTU). "These results are unprecedented and shall considerably improve the outcome of our patients".